Self Catering at Little Arthur Farm
'Ethical holidays that won't cost the Earth'
23 miles off Land's End lie the Isles of Scilly - the legendary land of Lyonesse - which, even to
day, exist as a haven of peace and tranquility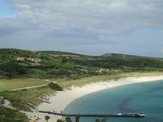 with unspoilt beaches, heather-strewn moors, amazingly clear blue waters and wild headlands - and this is the way we want to keep it. That is why, at Little Arthur, we offer you the opportunity to enjoy a holiday in this unique environment without destroying it.
Little Arthur Farm lies in a shallow, south-facing, valley, bordered by sandy beaches to the south and heather strewn moors to the north. The farm is a mixed organic holding combining "self-sufficiency" farming with a small amount of cottage industry - shoe-making, flower farming and a garden cafe and bistro using farm produce. The aim of the farm is sustainability, a working demonstration of the potential for an ecologically sound life style within the island environment. We grow our own fruit and veg, milk our own goats, have chickens and ducks for eggs and keep pigs, sheep and a couple of cows.
The cabin (see below) is situated just behind our cafe and bistro and is only two minutes from Adams Fish and Chips meaning local, freshly cooked food is close at hand for those wanting to escape cooking. The cabin is also a two minute walk from Par Beach, by most considered the best beach in Scilly. The beach is home to St Martins water sports so why not hire a kayak or go snorkelling with the seals? During the holiday season boats depart daily from the quay for trips to other islands or to see the seals and Eastern Isles. Explore St Martins, visit the cafes and pub, buy island-made silver jewelery or hand-made shoes or belts. Visit the gallery for island-inspired art or spend an evening at the new observatory.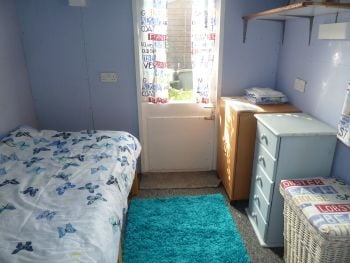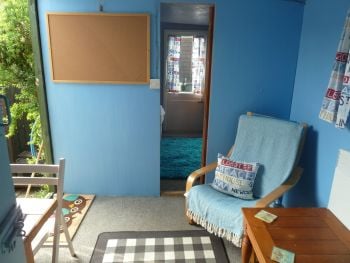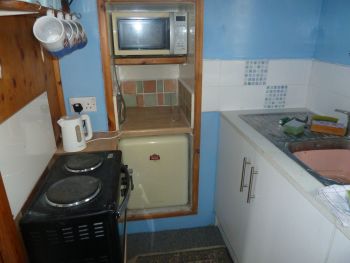 Backpackers Cabin
We have a small backpackers cabin (images above) for the solo traveller. This is intended as an inexpensive base from which to explore the islands. It provides the basics - a single bedroom, seating area, kitchenette with microwave, small oven, fridge, sink and storage; toilet and shower. Note this does not have sea views but is only five minutes from the beach! Outside is a small decking area with table and sun-lounger for days when you just want to stay put.
Wifi available.
Details and availability can be found on airb&b or contact us direct at:
Prices are £227.50-£297.50 pw Saturday to Saturday
Vacancies:
March 25, April 1st £227.50
April 8,15 £262.50
May 6,13 and 20th £262.50
May 27th £297.50
June 24th £262.50
July1, 8th £262.50
July 15 £297.50
August 5,19,26th £297.50
September 16, 23,30th £262.50
October 7,14,21st £227.50
For October bookings, do be aware that many establishments on the island,
cafes, studios etc shut early in October.
Please email [email protected] for booking
50% deposit required to secure a booking.
Whilst every effort is made to keep this list up-to-date, please check first
if you wish to book.
Travel Information