Self Catering at Little Arthur Farm
'Ethical holidays that won't cost the Earth'
23 miles off Land's End lie the Isles of Scilly - the legendary land of Lyonesse - which, even to
day, exist as a haven of peace and tranquility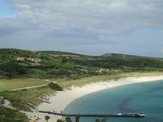 with unspoilt beaches, heather-strewn moors, amazingly clear blue waters and wild headlands - and this is the way we want to keep it. That is why, at Little Arthur, we offer you the opportunity to enjoy a holiday in this unique environment without destroying it.
Little Arthur Farm lies in a shallow, south-facing, valley, bordered by sandy beaches to the south and heather strewn moors to the north. The farm is a mixed organic holding combining "self-sufficiency" farming with a small amount of cottage industry - shoe-making, flower farming and a garden cafe and bistro using farm produce. The aim of the farm is sustainability, a working demonstration of the potential for an ecologically sound life style within the island environment. We grow our own fruit and veg, milk our own goats, have chickens and ducks for eggs and keep pigs, sheep and a couple of cows.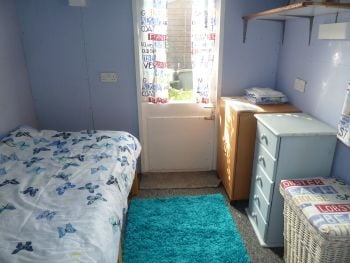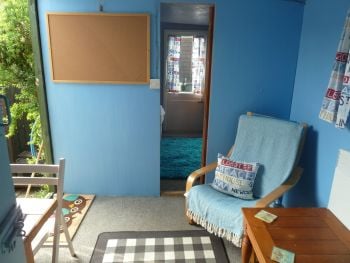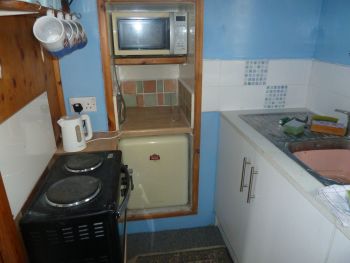 Backpackers Cabin
We have a small backpackers cabin (images above) for the solo traveller. This is intended as an inexpensive base from which to explore the islands. It provides the basics - a single bedroom, seating area, kitchenette with microwave, small oven, fridge, sink and storage; toilet and shower. Note this does not have sea views but is only five minutes from the beach!
Details can be found on airb&b. For availability contact [email protected] Prices are £175-£210 a week (Saturday to Saturday)
Travel Information