Little Arthur Cafe & Bistro
Higher Town, St Martin's. 01720 422779

During the summer season, Little Arthur Farm opens its cafe and bistro, cooking and serving food produced on the farm. We believe in guaranteeing the provenance of our food by growing it ourselves, be it salad leaves, fresh tomatoes, beef from animals grazed on our own pastures, milk from our Guernsey cows and goats or eggs from our Rhode Island hens. We believe in picking our tomatoes when they have been allowed to ripen naturally to develop their true flavour, not picked green and then ripened with gases and hormones. We believe in cows that have grazed their own grass, not stall-fed milk machines gorging on omnivorous diets and chemicals. We believe in fish that has been sustainably fished in the clear waters around Scilly, not in factory ship produce that has been flown in from the other side of the world.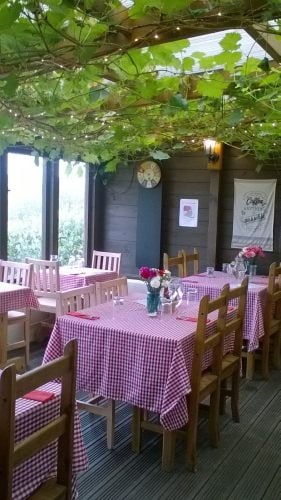 Government policy is geared towards seeing the demise of small family farms, bringing in rafts of legislation which make small scale production uneconomic. However, once small farmers have vanished to be taken over by the factory farms, there will be no customer choice, no alternatives to the output of such mechanised production. This is why, even though it may not be economically viable to farm, we believe it is the right thing to do.
Our cafe and bistro offer a range of local produce from our own farm and from other producers on the Isles of Scilly. We are open from 10.30am to 4pm Monday - Saturday. On Wednesday evenings we serve freshly baked Pizzas to eat in or take-away and on Friday evenings we open our Bistro serving a selection of meals created from the best local ingredients...Call us on 01720 422779 to reserve a table!
Menus for Summer 2021

For details of other businesses and activities on the island visit www.stmartinsscilly.co.uk or www.friendly-guides.uk